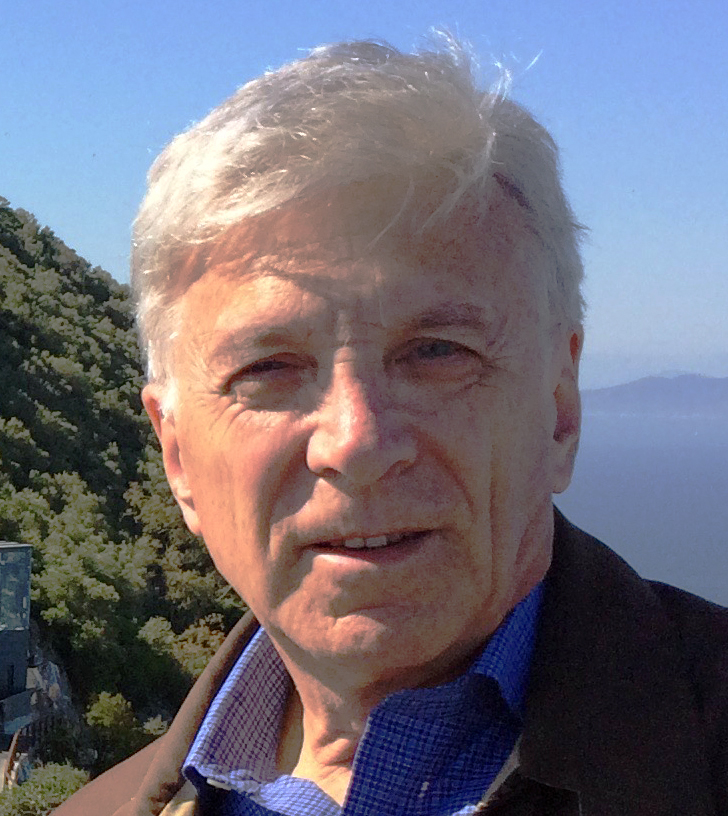 Xmas is coming . . .
so in the spirit of "X" I'm offering a special deal
Get all 48 issues of The Objectivist Forum—a $55 value—when you give a gift HBL subscription, good through next May, to someone not already on HBL—all for the incredibly medium price of $75.
Your giftee gets a subscription that runs from December 25th through May 31, 2021. (If you want it to start sooner, let us know; the end time, however, is immutable.)
But not only do you get a great gift to give, the main thing is that you get for yourself the 768-page book version of The Objectivist Forum. That $55 value is thrown in for free.
Wait, there's more: free shipping within the U.S.
| | | |
| --- | --- | --- |
| | | |
|     Free shipping |     $25 shipping |      $40 shipping |
Here's  info on the TOF bound volume.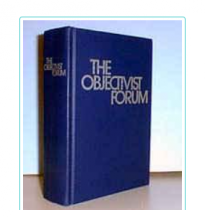 Before Ayn Rand died (in March 1982), she served as "philosophic consultant" (her term) for The Objectivist Forum. She read and approved my articles before they appeared and was informed in advance of each issue as to what other articles, by whom, would be appearing. After she died, Leonard Peikoff took over that role (for a couple of years only, as I recall).
The result is a collection of 768 pages with some really fine essays, including several by her and by Leonard Peikoff that have not been published elsewhere.
Here's the list of their articles (both those republished elsewhere and those found only in TOF):
---
by Ayn Rand:
To the Readers of The Objectivist Forum
Atlanta-Journal Constitution interview with Ayn Rand (interviewed by Jerry Schwartz)
The Age of Mediocrity (the last Ford Hall Forum talk that she delivered)
The Sanction of the Victims (speech to the National Committee for Monetary Reform, New Orleans, November 1981 and delivered by Leonard Peikoff after her death at the Ford Hall Forum)
The Money-Making Personality (reprinted from Cosmopolitan Magazine, April 1963)
From Ayn Rand's [then] Unpublished Writings (spread across several issues, courtesy of the Estate of Ayn Rand)
Roark and Cameron
Philosophic Journal
Notes for Atlas Shrugged
Notes for Atlas Shrugged II
Philosophic Notes
Notes for The Fountainhead
From Ayn Rand's Seminar on Epistemology
A Speech to Architects
From Ayn Rand's Seminar on Epistemology II
---
by Leonard Peikoff
The "Spirit of the Sixties"
'Maybe You're Wrong'
An Exercise in Philosophical Detection
Ayn Rand
Assault from the Ivory Tower (Ford Hall Forum talk)
Ayn Rand's Literary Style
The American School: Why Johnny Can't Think (Ford Hall Forum talk)
Medicine: The Death of a Profession
Philosophy and Psychology in History
Religion Versus America
Knowledge as Hierarchical (from a draft of OPAR)
My Thirty Years with Ayn Rand: An Intellectual Memoir
Reason, Emotion, and the Arbitrary (from a draft of OPAR)
Both "Maybe You're Wrong" and "Philosophy and Psychology in History" are extremely important articles, not available elsewhere.
I myself wrote 25 articles, some brief, for TOF. Here are the more important ones:
---
by Harry Binswanger
Philosophy and Nuclear Power (two parts)
The Possible Dream (two parts)
Q & A Department: An Answer to "Libertarian" Anarchists
Q & A Department: Identity and Motion
Ayn Rand's Philosophic Achievement (in four parts)
The Dollar and the Gun
Q & A Department: biological "altruism"; Russell's theory of "types"
Answers to Common Questions About Montessori Education (co-authored by Michael Berliner)
The Goal-Directedness of Living Action
The Hardwick Decision
Science Under Slavery (in two parts)
'Buy American' is Un-American (in two parts)
The Constitution and States' Rights
Other authors published in TOF include (in alphabetical order):
Michael Berliner
Thomas Bowden
Northrup Buechner
James Lennox
Ed Locke
Arline Mann
John Ridpath
In addition to 48 16-page issues, there is a detailed, 10-page index. Index references to pieces by Ayn Rand are shown in bold. Here's a sample of the index, to give you an idea of the range of the topics covered. Note that the entries under "A" continue on the next page (not shown).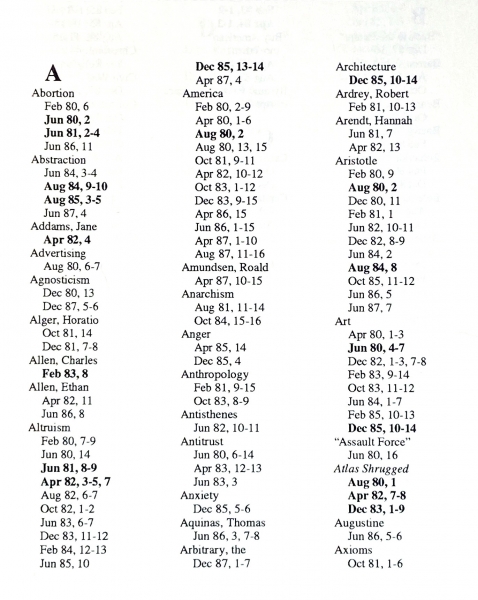 The book also includes the Announcements section of each issue.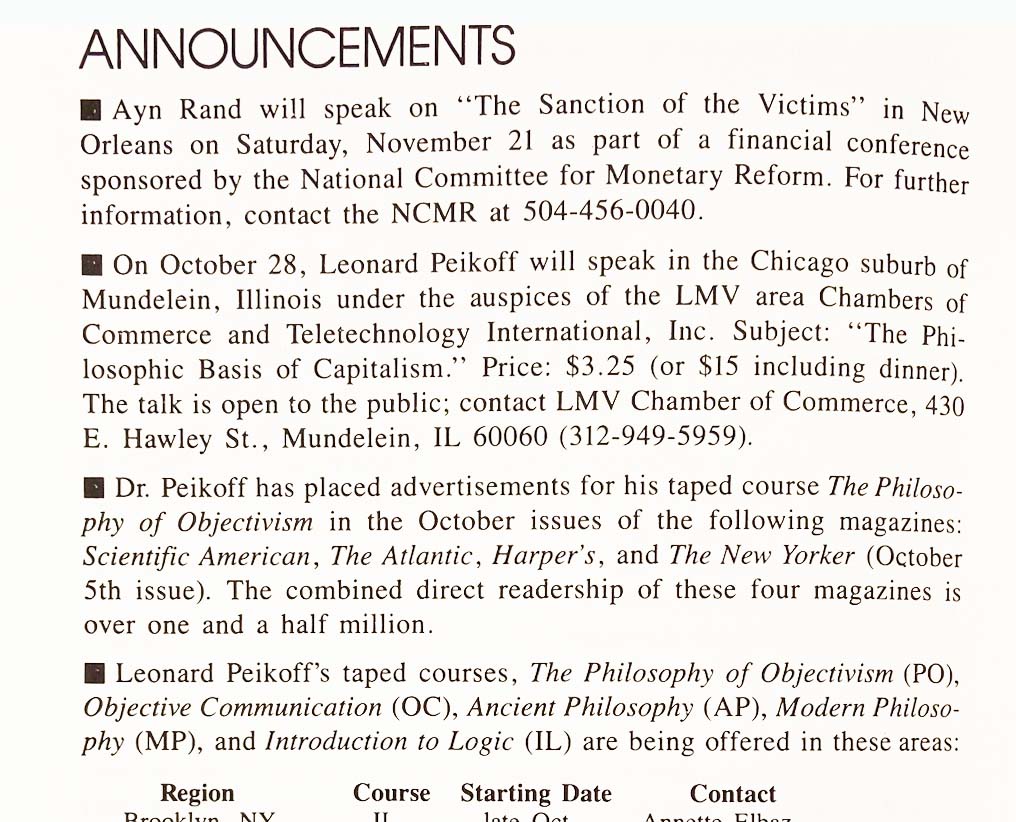 No extra shipping charge for books sent to addresses within the U.S. International shipping is surprisingly expensive, which has to be due to government-imposed obstacles to international trade. But I won't charge you our full cost: ship to Canada for $25 and anywhere else for $40.
Law void where offer is prohibited.
Side effects include: pleasure, tingling, dropping of jaw, involuntary smiling, elevated brain function, and uncontrollable urges to burn a copy of The Critique of Pure Reason. Do not read The Objectivist Forum if you are taking crack cocaine, the holy orders, or a college course in hermeneutics.
| | | |
| --- | --- | --- |
| | | |
|     Free shipping |    $25 shipping |    $40 shipping |