To post to the Member Forum:
To start a new topic on the Forum, click the "Start a new topic" button after clicking on the Member Forum tab, to get to its directory.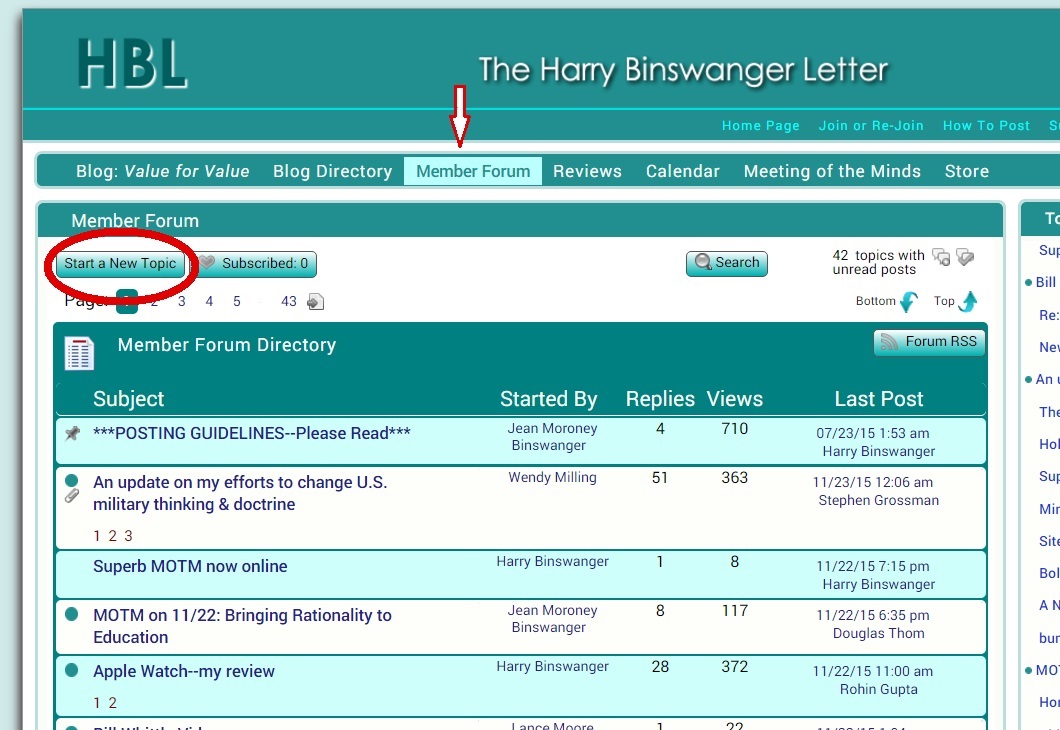 To reply to an existing post, go to the Member Forum, open the relevant post, and hit a Reply button, located at the top and the bottom of the post.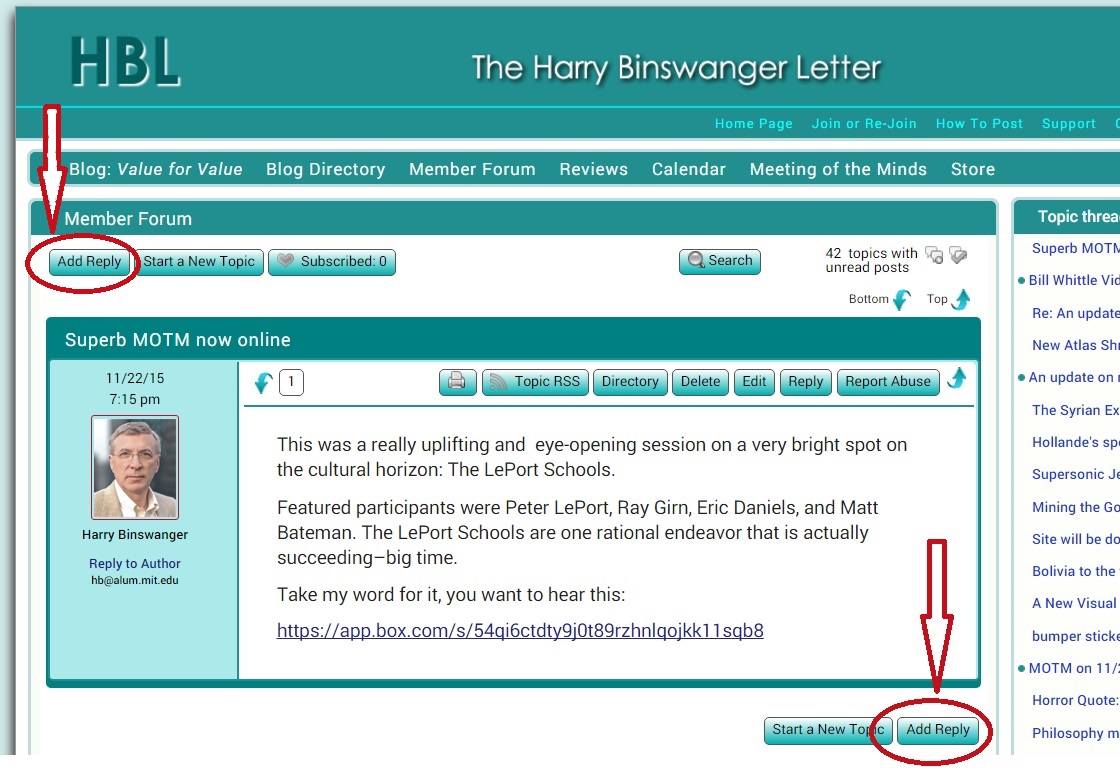 Your post will appear as soon as you hit the Submit button at the bottom. Rules: please read Posting Guidelines (the top post in the Member Forum directory). Inappropriate posts will be removed. Repeated violation of the posting guidelines will result in loss of posting rights.
---
To post a review
of a book, movie, TV show, musical performance, etc.

---
Using Word: If you use Microsoft Word to create your post, you should select all (ctrl-A) then copy it (ctrl-C), and then paste it (ctrl-V) into the text-entry window on our site. This will preserve your italics, etc. If it doesn't preserve your use of blockquotes, see below on how to do that on our site.
Editing: You can, for about 30 minutes, edit your post after it has been submitted by clicking on the "Edit" button. Please do see how it looks and make the almost always necessary corrections.
---
Blockquotes and other styling
Here's how To make blockquotes that look like this: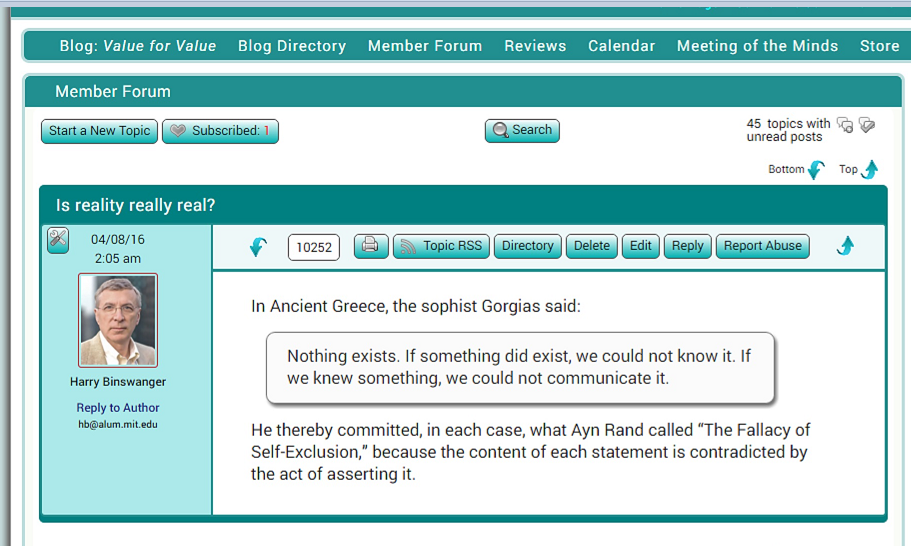 Start with your cursor anywhere within the paragraph (or multiple selected paragraphs). Then click on the quotation mark icon, which will produce this: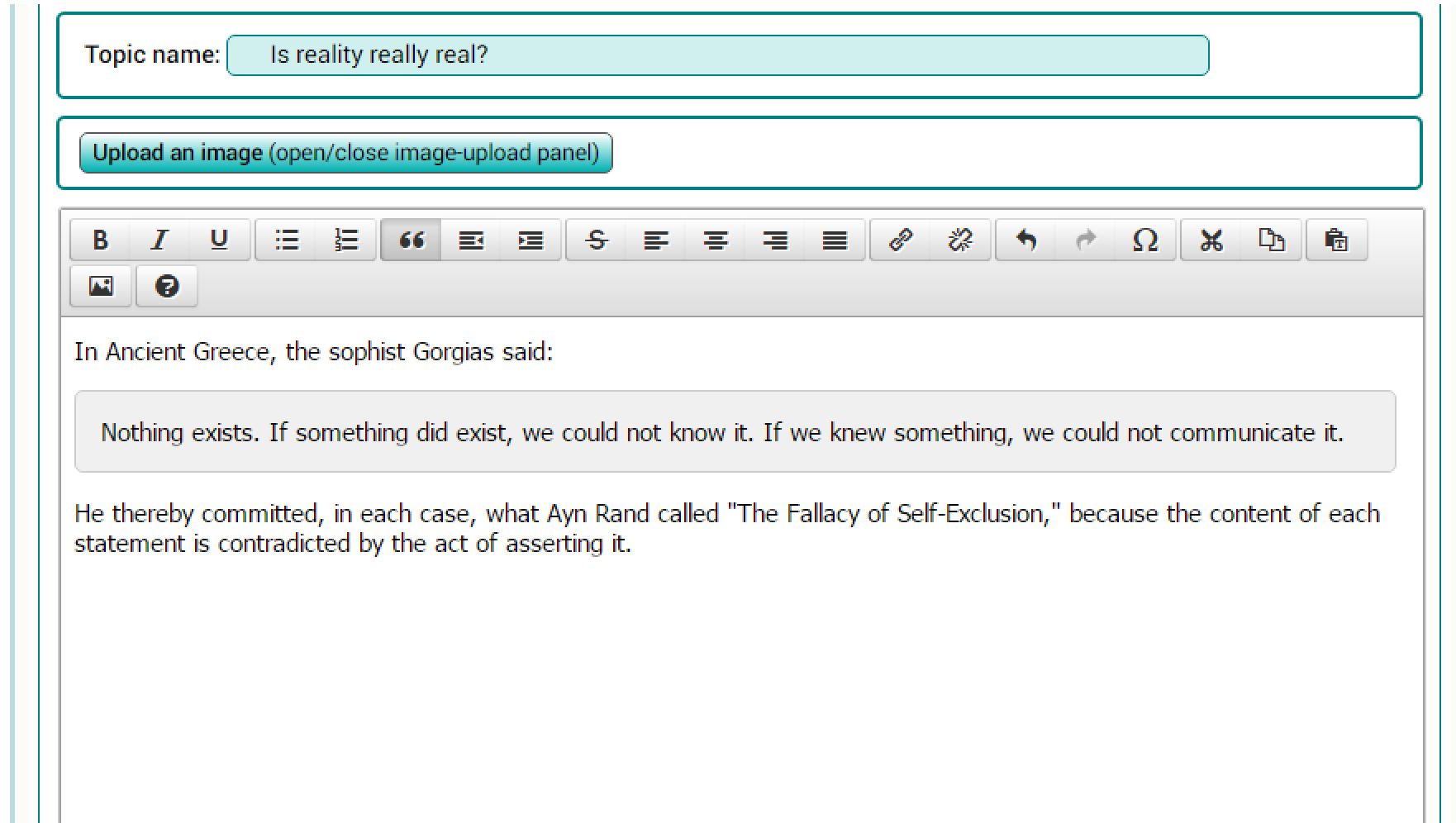 When you save your post, it will appear in the white blockquote box, as in the first screenshot.
Note: to get out of the grey blockquoting area, you need to get your cursor beyond it, which may require hitting Enter, to produce a new paragraph, then click on the quote icon again to toggle off the blockquoting (the icon will appear gray while it is "active").
In general, you can see what each of the icons across the top of the post input box do by hovering your mouse on it.
---
Regarding moderation:
The Member Forum is "community moderated": members use the "Report Abuse" button to let us know about any inappropriate post, and we may then decide to delete it from the Forum. Harry Binswanger does
not
review everything posted on the Member Forum. But from the material appearing on the Forum, he selects the posts that are emailed out, 4-5 times a week, to the membership list.